Indian Institute of Technology Madras
Students of this program are expected to
Have a fundamental understanding of the concepts of Biomedical engineering and applications

Understand human physiology and acquire modelling skills for engineering human biology

Get hands-on experience with experimental techniques in Biomedical Engineering through laboratory sessions

Experience design of biomedical devices and perform data analytics

Utilize research opportunities in advanced topics of Biomedical Engineering in healthcare industries / Institute research labs

Be able to provide solutions for medical diagnostic and therapeutic challenges through close collaboration with medical schools/hospitals
The ID-DD programme is offered by faculty from Biomedical Engineering Group- Department of Applied Mechanics, Biotechnology, Electrical Engineering, Computer Science and Engineering, Mechanical Engineering, Materials and Metallurgical Engineering, Physics and Mathematics. The truly interdisciplinary nature of Biomedical Engineering is reflected in the joint programme collectively offered by various allied Departments.
A B. Tech student or a Dual Degree student of IIT Madras in any discipline can upgrade/opt for this programme provided the student has a CGPA of 8.0 or above up to the 5th semester. The total number of seats is fixed at 25, and the Institute's rules will govern the allocation of dual degree specialization and award of the degree.
The students graduating under this programme are trained in fundamental engineering sciences and application-oriented skills in specific areas of biomedical engineering. This programme includes an optional introductory section in elective modules for the entire undergraduate community of IIT Madras. These modules enable students to appreciate the exciting possibilities in Biomedical Engineering and explore further studies in a dual Masters' degree by enrolling in the programme.
ID-DD-BME has a very flexible curriculum. The programme spans a period of the last two years of a five-year dual degree programme. Four out of seven theory courses are flexible to enable the students to choose from four major verticals of biomedical engineering such as biomaterials, bioinstrumentation, image and signal processing, and medical physics. This curriculum enables the students to explore diverse fields of biomedical engineering matched to the skills acquired as part of their UG curriculum. The interdisciplinary lab sessions in the curriculum range from circuit building exercises to cutting edge research-oriented experiments at various participating laboratories.
Frequent field visits to reputed medical, educational institutions, research centres, and hospitals help the students understand the current clinical needs to evolve ideas for product-oriented research. These students will emerge as an excellent fit for application-oriented product development. The curriculum also allows short term/ long term internships with potential companies/research organizations which could be extended to a full-year project to meet part of their credit requirements, wherever the project is deemed to fit our academic standards. Students can opt for industry internships, internships abroad through exchange programs, and an internship in Institute labs for final year projects. Industry collaborations would majorly focus on the development of indigenous products in the healthcare industry. IITM has excellent biomedical research labs in Biomedical signal processing, Biomedical instrumentation, Biophotonics, Non-invasive imaging, Biosensors, Biomedical ultrasound, Cell mechanics, Haptics, Virtual reality, Neuromechanics, Rehabilitation engineering, Medical materials and tissue engineering. Incorporating ML and AI to medical image and signal analysis helps the concept of automated disease diagnostics, an actively pursued research area at IITM. Our data science club further facilitates domain-specific student-faculty interactions.
Total Credits required
157
Interdisciplinary DD in Biomedical Engineering -course curriculum
| | | | | | | | | |
| --- | --- | --- | --- | --- | --- | --- | --- | --- |
| Sl.No | Course No | Course Name | L | T | E | P | O | C |
| | Semester 7 | | | | | | | |
| 1 | AM5119 | Core 1: Physiology for Engineers | 3 | 0 | 0 | 0 | 6 | 9 |
| 2 | AM5010 | Core 2: Biomechanics | 3 | 0 | 0 | 0 | 6 | 9 |
| 3 | Elective 1 | Elective 1: To be selected from BME / core basket | 3 | 0 | 0 | 0 | 6 | 9 |
| 4 | AM5119 | Physiological measurements and Instrumentation Laboratory | 0 | 0 | 0 | 2 | 2 | 4 |
| | | Total credits | | | | | | 31 |
| | Semester 8 | | | | | | | |
| 1 | MM5040 | Core 3: Medical materials | 3 | 0 | 0 | 0 | 6 | 9 |
| 2 | AM5XXX | Core 4: To be selected from basket of core courses | 3 | 0 | 0 | 0 | 6 | 9 |
| 3 | Elective 2 | Elective 2: To be selected from BME / core basket | 3 | 0 | 0 | 0 | 6 | 9 |
| 4 | AM 5019 | Advanced BME lab | 0 | 0 | 0 | 3 | 2 | 5 |
| | | Total Credits | | | | | | 32 |
| | Semester 9 | | | | | | | |
| 1 | YYXXXX | Project-I (Summer) / Summer internship | 0 | 0 | 0 | 0 | 15 | 15 |
| 2 | Elective3 | Elective 3: To be selected from BME / core basket | 3 | 0 | 0 | 0 | 6 | 9 |
| 3 | YYXXXX | Project II | 0 | 0 | 0 | 0 | 30 | 30 |
| | | Total Credits | | | | | | 54 |
| | Semester 10 | | | | | | | |
| 1 | YYXXXX | Project III | 0 | 0 | 0 | 0 | 40 | 40 |
| | | Total Credits | | | | | | 40 |
ELECTIVE COURSES
| | | | | | | | | |
| --- | --- | --- | --- | --- | --- | --- | --- | --- |
| | | Elective streams (Basket of Biomedical Electives) | | | | | | |
| Sl.No | Stream 1 | Biomechanics | L | T | E | P | O | C |
| 1 | PH5730 | Methods of Computational Physics | 3 | 0 | 0 | 0 | 6 | 9 |
| 2 | ME6000 | Computational Methods in Engg | 3 | 0 | 0 | 0 | 6 | 9 |
| 3 | MA6270 | Numerical solutions of partial differential equations | 3 | 0 | 0 | 0 | 6 | 9 |
| 4 | MA5890 | Numerical linear algebra | 3 | 0 | 0 | 0 | 6 | 9 |
| 5 | AM 7010 | Classics in Neuroscience | 3 | 0 | 0 | 0 | 6 | 9 |
| 6 | AM 5170 | Orthopedics Mechanics | 3 | 0 | 0 | 0 | 6 | 9 |
| 7 | AM 6190 | Movement disorders and neurorehabilitation | 3 | 0 | 0 | 0 | 6 | 9 |
| 8 | AM 5190 | Haptics and biomedical engineering | 3 | 0 | 0 | 0 | 6 | 9 |
| 9 | AM 5060 | Psycophysics | 3 | 0 | 0 | 0 | 6 | 9 |
| 10 | AM 6516 | Neuromechanics of human movement | 3 | 0 | 0 | 0 | 6 | 9 |
| 11 | ME6012 | Mechanics of human movement | 3 | 0 | 0 | 0 | 6 | 9 |
| 12 | AM 5110 | Biofluid mechanics | 3 | 0 | 0 | 0 | 6 | 9 |
| Sl.No | Stream 2 | Biomedical instrumentation | | | | | | |
| 1 | AM 5050 | Biomedical sensors and measurements | 3 | 0 | 0 | 0 | 6 | 9 |
| 2 | AM 5140 | Biomedical instrumentation | 3 | 0 | 0 | 0 | 6 | 9 |
| 3 | AM 5100 | Biomedical laser instrumentation | 3 | 0 | 0 | 0 | 6 | 9 |
| 4 | AM5160 | Biomedical imaging systems | 3 | 0 | 0 | 0 | 6 | 9 |
| 5 | AM 5013 | Operating theatre instrumentation and surgical tech | 3 | 0 | 0 | 0 | 6 | 9 |
| 6 | AM 5115 | Systems approach in Biomedical engineering | 3 | 0 | 0 | 0 | 6 | 9 |
| 7 | EE6403 | Transducers for instrumentation | 3 | 0 | 0 | 0 | 6 | 9 |
| 8 | EE6402 | Biomedical electronic systems | 3 | 0 | 0 | 0 | 6 | 9 |
| 9 | EE6501 | Optical sensors | 3 | 1 | 0 | 0 | 8 | 12 |
| 10 | EE5502 | Optical engineering | 2 | 3 | 0 | 0 | 7 | 12 |
| Sl.No | Stream 3 | Medical Physics | | | | | | |
| 1 | AM 6518 | Biophysical aspects of tumor microenvironment | 3 | 0 | 0 | 0 | 6 | 9 |
| 2 | AM 5190 | Cellular structures and mechanics | 3 | 0 | 0 | 0 | 6 | 9 |
| 3 | AM 5120 | Biomaterials | 3 | 0 | 0 | 0 | 6 | 9 |
| 4 | BT5011 | Biomaterials engineering | 3 | 0 | 0 | 0 | 6 | 9 |
| 5 | EE5500 | Introduction to photonics | 3 | 0 | 0 | 0 | 6 | 9 |
| 6 | EE6506 | Computational electromagnetics | 4 | 0 | 0 | 0 | 0 | 12 |
| Sl.No | Stream 4 | Image and Signal Processing in Biomedical Engineering | | | | | | |
| 1 | AM4010 | Biomedical signal processing | 3 | 0 | 0 | 0 | 6 | 9 |
| 2 | CS6300 | Speech Technology | 3 | 0 | 0 | 0 | 6 | 9 |
| 3 | CS6690 | Pattern recognition | 3 | 0 | 0 | 0 | 6 | 9 |
| 4 | AM5020 | Biomedical Ultrasonics | 3 | 0 | 0 | 0 | 6 | 9 |
| 5 | EE4240 | Image signal processing | 3 | 0 | 0 | 0 | 6 | 9 |
Research Facilities at a glance: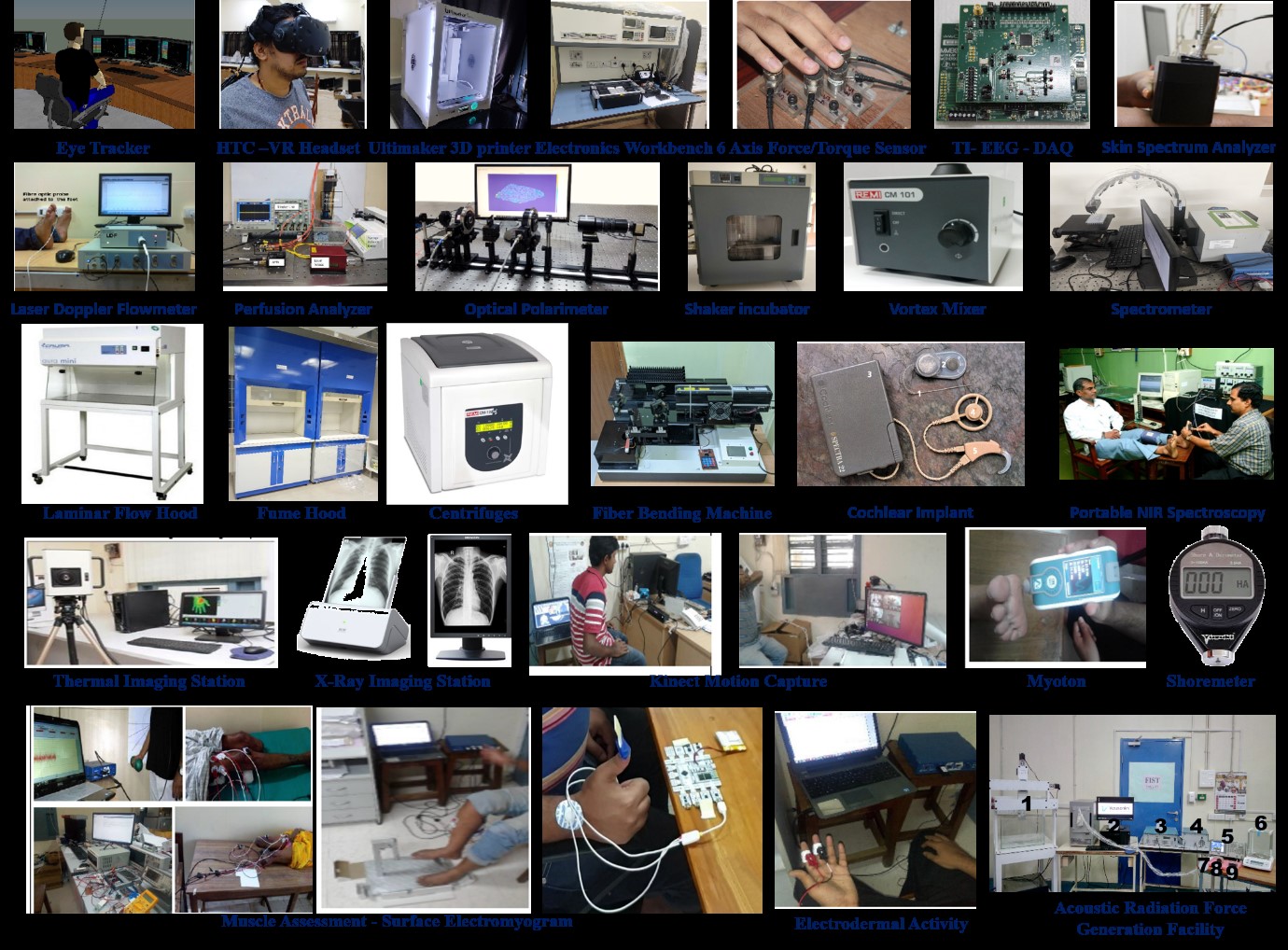 Snapshots from field visits:

Coordinating Faculty
Applied Mechanics (BME group)
Contact Faculty
N. Sujatha
nsujatha@iitm.ac.in