This centre intends to start with existing facilities and a few upgrades, and then expand to higher pressure capability at a later stage. First 2 years will have the capacity of 10 bar and 600K continuous operating facility, which will be upgraded to 800K in the second phase. The target capability for the centre in 8 years is to reach 40 bar and 850K capacity. This centre will be one of a kind with possibility of testing thermal management components with real combustion exhaust gases at high pressures. This centre would include four verticals.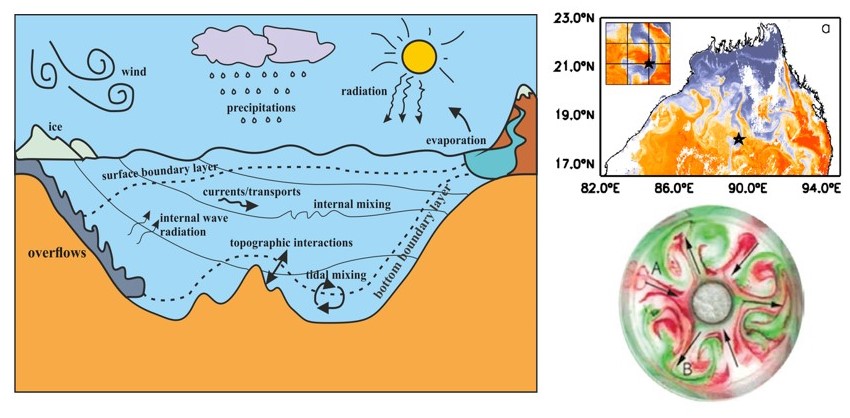 Fig. 1: Left panel - Cartoon depicting various ocean processes and air-sea interactions that influence ocean state and climate (source: Petrola & Woods 2018). Right top panel - Satellite-based sea surface temperature (SST) map showing fine-scale structures in the Bay of Bengal (source: Sengupta et al. 2016). Right bottom panel: Laboratory modeling of a geophysical flow in a rotating tank (source: Illari et al. 2009).
Basic understanding and predictions of events of destructive heavy rainfall over India during monsoon, on sub-seasonal (a week to a few weeks) time scales remain scientifically challenging (Webster et al. 1998, Lau et al. 2012). Active efforts are ongoing to develop a dynamical framework to improve monsoon prediction (Rao et al. 2019), under the Indian National Monsoon Mission. On a large scale, ocean dynamics and mixing are known to have a profound influence on monsoon activity. For example, shallow ocean mixed layers with weak winds in the Bay of Bengal (BoB) and deep mixed layers with strong winds in the western Arabian sea have contrasting effects of keeping the sea surface warm and cool, respectively; as a result, monsoon convection gets primarily locked to the BoB (Shenoi et al. 2002). Smaller scales are, however, critical to understand sub-seasonal dynamics. While the multi-scale nature of monsoon features is well-acknowledged, and order 1-10 km scales in the BoB has been revealed recently (figure 1), the scales that actively influence air-sea interaction are not well-understood. A recent modeling study (Samanta et al. 2018, fig. 2 right) has shown that 100 km scale lateral gradients of mixed layer depth and sea surface temperature in the coastal BoB can have a significant impact on monsoon rain, including its genesis. Pertinent questions that require attention now are: (i) what processes contribute to the 10-100 km scale lateral gradients in the upper ocean, and (ii) to what extent do these scales modify air-sea fluxes and possibly the frequency/intensity of monsoon meso-scale convection?
Mooring observations, under OMNI (Venkatesan et al. 2013) and RAMA (McPhaden et al. 2009) programs (fig. 2 left), give hourly data of upper ocean characteristics, and surface meteorological parameters. They provide useful insights on mixed layer evolution (e.g. Parampil et al. 2010) and ocean response to cyclones (e.g. Chaudhuri et al. 2019). Ship-based observations are complementary to mooring observations. Recent field campaigns in the open ocean of BoB, under the Indian Ocean Mixing and Monsoon (OMM, 2014-2020) and the US Air-Sea Interactions in the Northern Indian Ocean (ASIRI) programs working in an informal collaboration (special issues by Mahadevan et al. 2016, Gordon et al. 2019, 2020), deployed new ship-based observations and autonomous platforms to study the bay from sub-meso (order 1-10 km scales) to basin scales. They revealed rich frontal features, sub-mesoscale variability, shallow mixed layer dynamics, and suppressed turbulence under stable salinity stratification (Special Issue of Mahadevan et al. 2016). Observational efforts are ongoing in the southern BoB (Vinayachandran et al. 2018) and Arabian sea (Centurioni et al. 2017) too.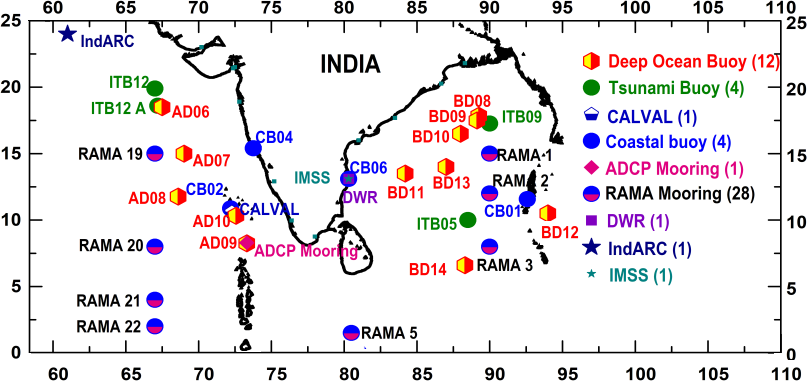 Fig. 2:Mooring locations in the Indian Ocean (source: NIOT, personal communication).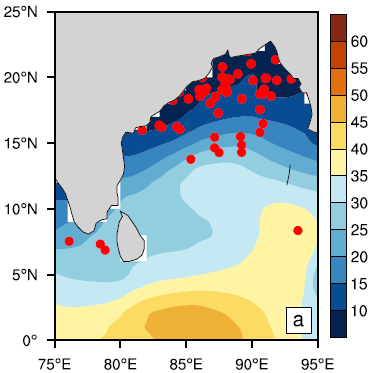 Climataogical mixed layer depth (in metres), along with the estimated genesis locations of monsoon depressions (source: Samanta et al. 2018).
A major gap in monsoon research is the absence of mooring observations, and too few ship-based field campaigns, within 250-300 km of the coast, except for a few moorings in very shallow water close to land. In coastal regions, where tides, topography and boundary currents introduce dynamics quite different from the open ocean while remaining significant for air-sea interactions, satellite measurements have data gaps too. Argo floats (Roemmich et al. 2009), potentially useful for coastal regions, generally do not give salinity measurements in the upper few meters. Observational campaigns in the coastal regions, using state-of-the-art physical oceanography (Venkatesan et al. 2018), are therefore the need of the hour. India's advanced field measurements capabilities (NIOT, INCOIS) are well-suited to carry out such campaigns.
Spatially extended observations of the coastal regions, however, remain a challenge. Satellite imaging is useful for large-scale applications (Sharma et al. 2016), but its spatial/temporal resolution/accuracy are insufficient for coastal monitoring. Furthermore, satellite datasets have major uncertainties in the monsoon season due to deep clouds/heavy rainfall. On the other hand, local measurements using coastal radars, or in-situ measurements have insufficient spatial coverage. Autonomous Unmanned Aerial Systems (UASs) offer a viable means to achieve larger spatial coverage along with desired fine spatial/temporal resolution, potentially an invaluable intermediary between satellite imaging and in-situ measurements. UASs also offer the possibility of resolving the atmospheric boundary layer (Villa et al. 2016), representing an alternative to weather balloons at least in the lower few km of the atmosphere.
While field measurements are vital in describing the oceanography, and air-sea interactions, an understanding of underlying physical mechanisms are essential too. Theoretical modeling, lab experiments and fine-scale numerical simulations, motivated by various conditions of the northern Indian Ocean, are invaluable in this pursuit. Fine-scale numerical simulations motivated by BoB conditions are just emerging, with frontal dynamics at various scales being investigated (Sarkar et al. 2016). Modeling (e.g. Thomas et al. 2008) and experimental (e.g. Mathur & Peacock 2009) studies, while exploring some relevant small-scale processes, don't yet specifically target northern Indian Ocean regimes. Field and lab studies tend to be performed by independent groups conventionally, whereas the proposed centre will involve a close interplay between the two.
While significant recent progress has been achieved in physical oceanography, laboratory studies, and numerical ocean & atmospheric modeling, a synergistic approach combining the three is the need of the hour. In this centre, we propose to rigorously combine (i) new fine-scale field measurements, (ii) fine-scale laboratory (experimental/numerical/theoretical) modeling of upper ocean physical processes, and (iii) large-scale coupled ocean-atmosphere modeling, to improve our understanding of air-sea interactions in the northern Indian ocean, especially the poorly observed/understood coastal regions. Field measurements will motivate targeted fine-scale lab studies, which in turn will motivate specific experiments with large-scale climate models. The climate model experiments will then motivate field and lab studies, with the ultimate objective being improvement in climate modeling and prediction.
The use of unmanned aerial systems (UASs) in atmospheric and oceanographic application is novel, and has high potential to advance physical oceanography. Measurements from aerial platforms operating at an altitude of a km or two represent an invaluable intermediary between satellite imaging and in-situ measurements. With carefully designed sorties, they could provide composite maps of sea surface properties like SST over spatially extended regions while providing a spatial resolution of the order of a metre. Furthermore, the use of UASs for atmospheric boundary layer measurements represents a significant advantage over conventionally used weather balloons: controlled vertical profiles at desired locations are possible, and the payload is not lost with every launch. While there exists challenges in establishing effective use of UASs in harsh coastal environments & high altitudes, the team with experts in Aerospace Engg. and Image Processing is well placed to address them. Finally, our centre could lead towards disruptive technologies like deployment of ocean sensors from UASs.
Expected deliverables of the research
The underlying science objective of all the centre's activities in the next five years would be to advance our understanding of the role of coastal processes, and 1-100 km spatial scales in both the coastal and open ocean regions, on air-sea interactions in the northern Indian ocean. The specific objectives are
Establishment of a centre with a unified approach, combining field measurements, climate modeling and laboratory modeling (theory/simulations/experiments), towards geophysical flows (see figure below),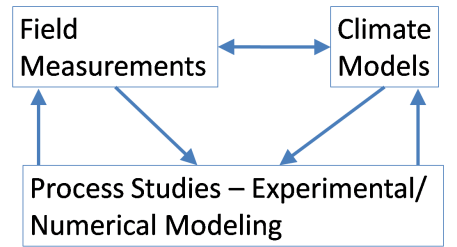 Targeted survey of the coastal regions of the northern Indian ocean (Bay of Bengal in the first phase, expanding towards Arabian sea in the second phase) using state-of-the-art physical oceanography methods to characterize upper ocean dynamics and mixing. The centre will work with the National Institute of Ocean Technology (NIOT) and Indian National Centre for Ocean Information Services (INCOIS) on field campaigns.  

Design and development of autonomous unmanned aerial systems for atmospheric measurements and sea surface imaging. Two configurations will be developed: (i) Quad-rotors for vertical profiling with extended endurance, and (ii) Fixed-wing type aircraft for measurements over extended horizontal domains. In addition to flight in harsh environments, sensor integration and image processing will represent key challenges. This activity will open up tremendous possibilities for future oceanographic and meteorological observational campaigns worldwide.

Fine-scale process modeling in the lab , via experiments, simulations and theoretical modeling, of small-scale processes influencing the upper ocean structure in the northern Indian ocean. This would advance our understanding of various dynamic and thermodynamic processes influencing air-sea interactions in the northern Indian ocean, and thus the relative importance of accurately parameterizing them in climate models, This activity would be a natural continuation of ongoing research on rotating and stratified flows at IIT Madras.

Coupled ocean-atmosphere climate modeling (sensitivity experiments and data assimilation), based on inputs from field experiments and fine-scale process modeling, to progress towards a better understanding of predictive capabilities of climate models. The centre will work with National Centre for Medium Range Weather Forecasting (NCMRWF) for this activity.
International Collaborations
External international site links
International education programs
Online meeting of Geophysical Flows Lab, including all Indian and international participants, planned for September 7, 8 and 13, 2021

Discusion meeting on "Waves, Instabilities and Mixing in Rotating and Stratified Flows" at ICTS, Bengaluru, April 4-8, 2022. link

An in-person meeting of Geophysical Flows Lab is being planned at IIT Madras during April 2022
Industrial collaborations
Tunga Services Pvt. Ltd. for the development of unmanned aerial systems.
Short Term -
Field measurements/survey in the coastal regions, especially from unmanned aerial systems, will contribute directly towards the Integral Coastal Zone Management (ICZM), which is an international initiative on a dynamic, multidisciplinary and iterative process to promote sustainable management of coastal zones.
Medium Term -
Improving climate modeling and monsoon prediction in the Indian subcontinent region will influence the essential livelihood of over a billion people through its role in agriculture and water resources. In addition, improving even the short-term predictions of events like cyclones and tropical depressions are of immense value. A rigorous approach to modeling transport of scalar species like nutrients, oxygen concentration and plankton, and contaminants like microplastics, in the upper ocean can provide useful insights on biological activity, leading to invaluable information to fisheries and ecological studies. Analysis of surface waves is useful for predicting monsoon activity, identifying coastal regions prone to erosion, improve navigational planning by identifying regions with threat to boats and commercial shipping.
Long Term -
Unmanned Aerial Systems, owing to their surveillance capabilities, will be directly useful for civic bodies for mapping of water bodies and construction sites, coastguard for search and rescue operations, the armed forces and para-military for surveillance applications.
Sustenance statement
The theme of the proposed centre is highly relevant to India's National Monsoon Mission programme of the Ministry of Earth Sciences. The corresponding fundamental science questions are also of interest to DST. While the focus will be on the Bay of Bengal in the initial phase, expansion towards the Arabian sea and the open oceans of the Indian ocean will be natural longer-term plans. Also, since the common theme of geophysical flows is relevant for the entire ocean, the centre will seek support from other MoES labs like NCPOR, IITM, and global agencies like ONR (USA). Internal waves are relevant to the Indian Navy and DRDO in the contexts of submarine detection and acoustic propagation. ISRO labs, including SAC, NARL and NRSC, will also be interested in the research initiative for its oceanography, meteorology and image processing activities.
The establishment of UASs as oceanography and meteorology equipment will be a game-changer in several applications. Examples include weather monitoring by Indian Meteorology Department, in airports, and for missile and rocket launches. In addition, coastal zone monitoring is one of the important mandates of INCOIS and NIOT. Several other surveillance applications like monitoring of Highways, Railways & Waterways, mapping water bodies and construction sites etc. will also open up. ISRO is interested in the UASs for payload testing and calibration of satellite measurements. Finally, this RI could lead towards disruptive technologies like deployment of ocean sensors from UASs