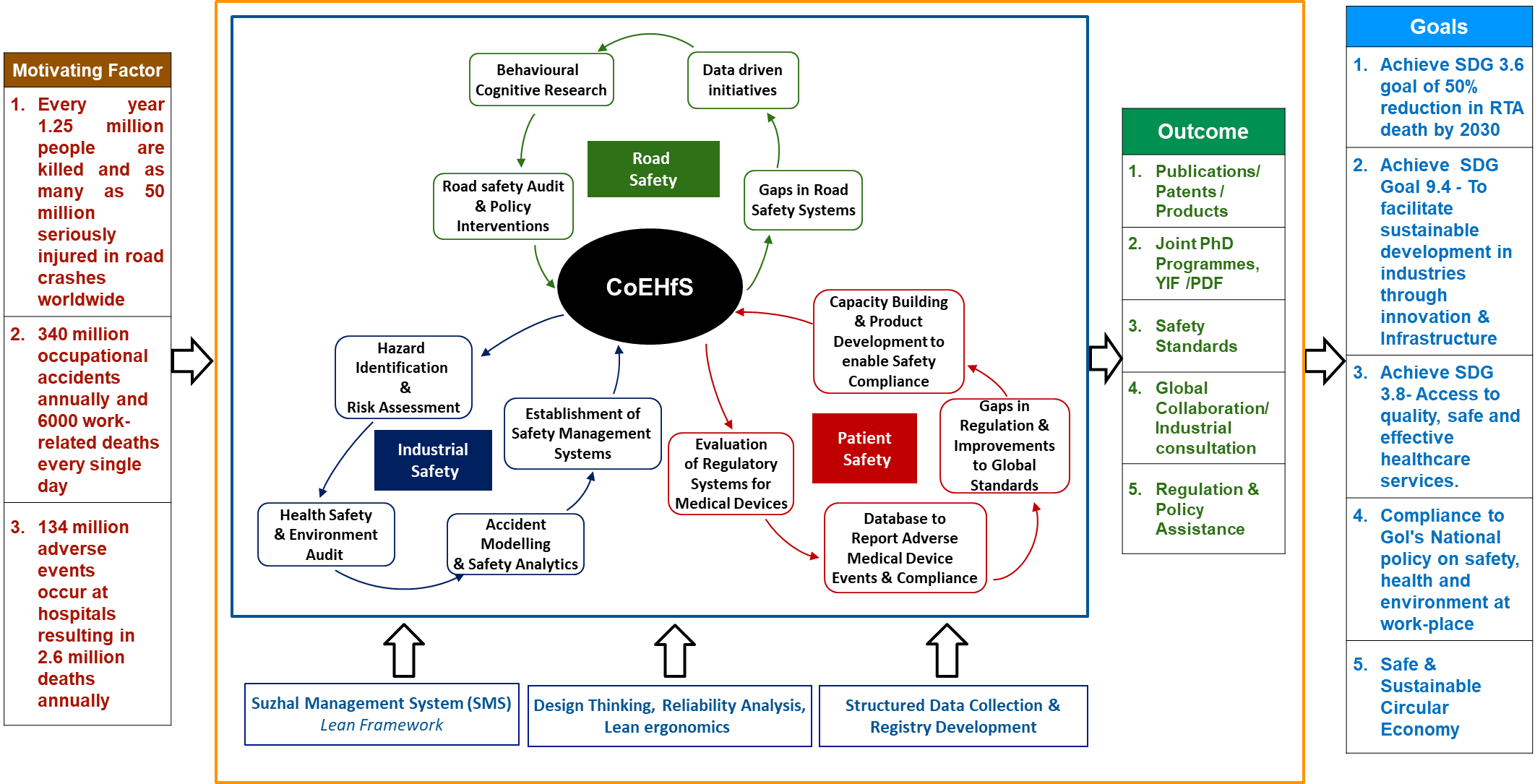 Expected deliverables of the research
Creating a multidisciplinary centre of excellence for co-creation with global experts in road safety from academia, practitioners (Industry) and governments (Regulators & policy-makers) using RBG Labs Transportation Safety Framework
Establishment of state-of-art Behavioural & Cognitive Science Lab and Augmented Reality Lab
Joint Doctoral Programs with Global Leaders LSE, HKS, (MuARC) and IITM partner institutions (Michigan State University, Ecole Centrale Nantes, University of Technology, Sydney) in the areas Crash Data Analysis, Road Safety
Hold international workshops and signature conferences on Human factors and publish an annual state-of-art report on road safety
Establishment of policy and regulations on road safety for LMIC
Hiring is in progress for IPDF and Relevant positions
Data Engineering- Data collection is in progress for analytics
National workshop on road safety held for six states in alignment for RBG Lab's iRAD Project
Procurement of GPU in the final stage
International collaborators
Tiago H. Falk Associate Professor, INRS-EMT Director, MuSAE Lab Montreal, QC, Canada link
International education programs
International workshop on Human factors in collaboration with MuSAE Labs, Montreal, Canada – June 2021
Signature conference on Driver modeling in collaboration with Industry partners August 2021
Industrial collaborations

Road accidents that are fatal or with injury involve high human suffering. The loss of the main breadwinner or future breadwinner of the family due to accidental death or disability can be catastrophic to that family, leading to low living standards and bereavement of the family. There is an economic loss to the family and to the nation as well. There is a gap in research to evaluate the impact of growth in the economy, road transport & infrastructure and the loss due to road traffic accidents. A deeper understanding is required to design and develop a safe transportation system. The cost associated with the fatal loss of the victims is captured from various data. On a holistic view, this cost, being the economic burden for the nation, has a greater impact on the GDP of the country and further pulls down the economic growth of a country.
Descriptive and predictive models based on data will enable strategy formulation for policy advisory. With the assistance of domain experts and other stakeholders, effective policy interventions will be formulated for effectiveness implementation. Some of the advisories will be the outcome of research in the broad areas of driver behaviour, sentiment analysis, socio-economic analysis in understanding human psychology and causative factors leading to safety aspects of different sectors of society.
Sustenance statement
RBG Labs has been continually receiving excellent support from industry and from agencies. More recently, the human factors-based data-driven approach focusing on human behavior and performing analysis has proved to be an effective model in reducing the fatality rate. Further, we extend our support through RBG Lab's Transport Safety Paradigm to all States.
Currently, RBG Labs has major funding of about 42.48 Crores to be a think-tank on road safety for India and advice State Governments on policy across states. A lean approach to road safety is being implemented. There is also a discussion for funding a National centre for excellence under MoRTH for road safety
Industries have been one of the major supporters for translating the research from the lab to practical use. In this regard, one of our IPs developed in the lab for detecting driver behavior and performance has been transferred to Harita Seating Limited.