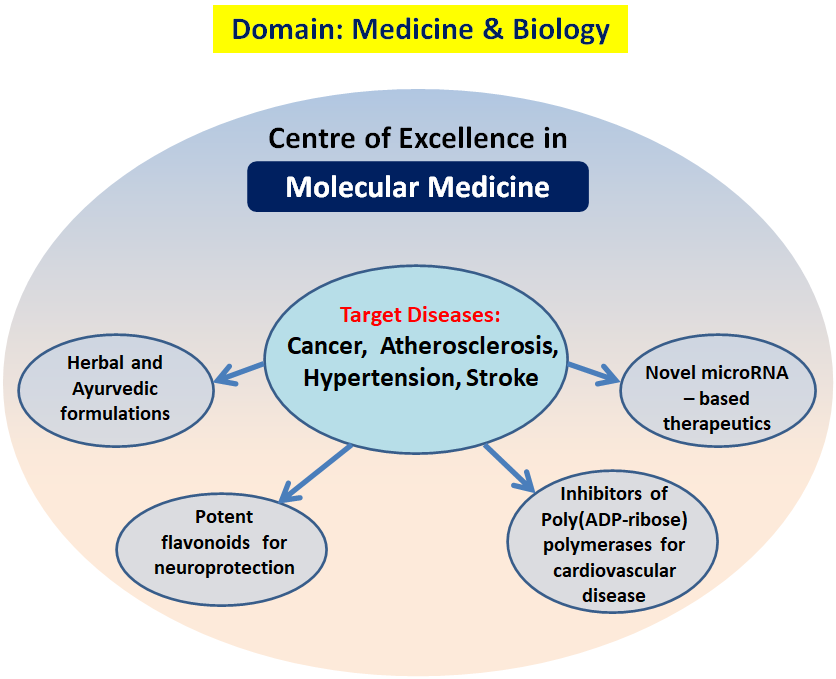 Non-communicable diseases like cancer and CVDs have been studied by various research groups in India and abroad. Large number of studies over the past decades have focused on elucidating the complex molecular mechanisms of carcinogenesis and CVD development including endothelial dysfunction, hypertension development and cardiac failure in order to develop novel therapeutic targets. In this context, little information is available on the role of novel miRNA based therapeutics. We have found that miR-27a diminishes plasma cholesterol level (Fig.A) and improves cardiac function in Apoe knockout mice.
Our earlier work (Fig. B) has clearly shown the molecular mechanistic basis for the role of miR493 in oral squamous cell carcinoma (OSCC) & smoking as an adverse factor in its dysregulation. Use of identified antagomirs is entirely a novel approach for handling Head and Neck Cancers. The chances of it becoming successful are more because the approach addresses the Achilles heel of the problem. It is known that few subtypes of Head and Neck cancers behave aggressively, owing to their multifactorial aptitudes viz., hypo-vascularity and poor perfusion, and finally drug resistance. Based on our previous studies on the role of IGF1-R in Head and Neck cancers and recent literature citing the limitations for miRNA therapy, our approach of targeting IGF1-R specific miRNA will bring a paradigm shift in treatment of solid tumours and in particular Head and Neck Cancers.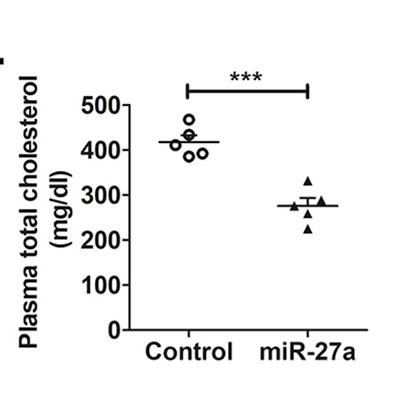 A . miR-27a diminishes plasma cholesterol levels in Apoe knockout mice.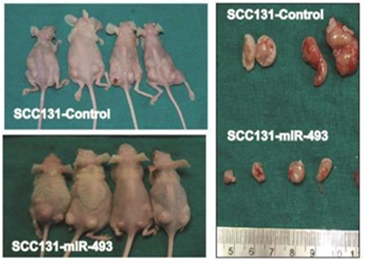 B . miR-493 expression inhibits tumor growth in nude-mouse models
Till date there are no drugs available that prevent the process of plaque buildup in blood vessels. Identification of secoiridoids blocking endothelial inflammation and SMC proliferation will lead to identification of novel Active Principle Ingredients (API) that can be suitably modified structurally to enhance its bioactivity further.
In individuals with higher risk of CVDs and stroke, drugs targeting ion channels like the ASICs and VRAC have not been developed yet. The available pharmacological blockers are either nonspecific or poorly permeable through blood-brain barriers. Flavonoids are already in use for treating different diseases. We are proposing to develop quercetin-derivatives as well as identify naturally occurring flavonoids which will specifically block ASICs and minimize off target effects (Fig C). Nevertheless, it would be an inexpensive way of treating stroke. For treating stroke by blocking VRAC, we are proposing to look for repurposing drugs which have their own advantages.
This study is novel as it plans to generate inducible neuronal specific PARP transgenic and knockout mice to understand the role of PARPs in peripheral neuromodulation. The results from this study will help identify candidate genes and therapeutic targets to prevent hypertension induced cardiac pathology and endothelial damage.
Overall, with the proposed work, we will gain more knowledge and understanding to develop small molecular based therapeutics like miR, herbal preparations (Fig. D), flavonoids, and PARPs inhibitors to treat cancer and prevent CVD development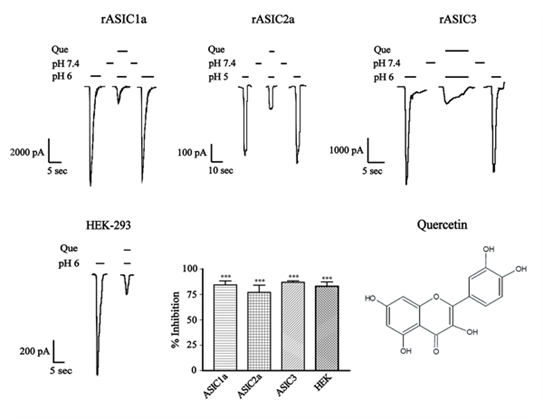 C .Quercetin inhibits recombinant rASICs and endogenous ASICs in HEK-293 cells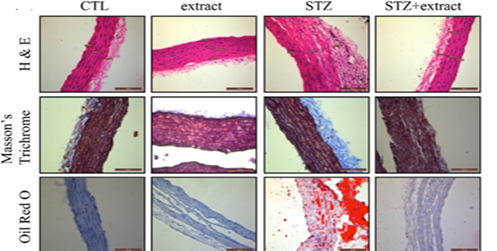 D . Anti-atherosclerotic effect of glycoside rich root extract on plaque formation in STZ rats
Expected deliverables of the research
Publication and visible output: We plan to disseminate our research findings in major international conferences in the area of molecular medicine. In addition to participating in key international conferences in our area of research, we plan to organize international conferences in the area of molecular medicine.

Manpower development: We will conduct hands on-workshops, symposium, area specific conferences, internship programs, integrate our research work with Govt. of India programs such as KVPY, INSPIRE, continuing education programs (that invites faculty from other institutes), industrial collaboration, and signing Memorandum of Understanding (MOU) with hospitals to take joint Masters and PhD students.

Internationalization: We already have established collaborations with a number of international institutions. We plan to enhance our engagements with international collaborators.
Infrastructure development

Establishment of an in-vivo imaging facility
State-of-the-art animal house
International Collaborations
The possible societal impact of the outcomes of our proposed work include:
First, India's biggest challenge is the economic burden that cardiovascular diseases and cancer therapy poses on its people. In this project, we have proposed to identify mechanisms and find small molecules that could lead to novel therapy for treating cardiovascular diseases, neurodegenerative diseases, and cancer. As we plan to clinically evaluate drugs that could be used in Indian patient population for cancer, cardiovascular and neurodegenerative diseases, we could reduce the economic burden.
Second, in the healthcare system, despite making progress, India still has an increase in the rate of mortality due to non-communicable diseases. With the identified novel molecules that could be used for cardiovascular diseases and cancer treatment in the Indian population, we could reduce the morbidity and mortality.
Third, we can achieve targeted therapy and personalized medicine which will have a huge societal impact in improving healthcare at an individual level.
Finally, the results from our research will increase pharmacological innovations, increase access to small molecules as new medicines, and improve life expectancy globally.
Sustenance statement
With the Institute of Eminence (IoE) funding as seed grant, we aim to inculcate a robust research zeal in the young minds. We will also be following a model of contract research, wherein various services related to different assays will be done by trained technicians for the needy students from inside and outside IITM campus and this will be a revenue generation plan. Also, we propose to apply for external funding for maintenance and support from various funding agencies.
References
Technical/ Scientific Progress
New work done in the project
We explored the possibility of using several natural products and small molecules for treating stroke-induced brain damage and depression, by targeting different ion channels. We have developed a formulation, a combination of different short chain fatty acids (SFAs) which showed promising neuro-protective effect on zebrafish model of ischemic stroke. The formulation is also able to prevent stress-induced depression in zebrafish model. The protective effect seems to be associated with the modulation of acid-sensing ion channel (ASIC). To understand the underlying molecular mechanisms, we studied the effect of SFAs on different neuronal ion channels. SFAs increased the expression of ASIC1a in different neuronal cell lines. We are in the process of evaluating the effectiveness of our formulation in a mouse model.
We studied how several mutations in GIRK and pannexin channels induce different neuronal diseases like epilepsy and stroke. For the first time, we reported involvement of pannexin channel in both cell death and cell survival.
We have started analyzing the presence of active phytochemicals in the Gentiana extracts through Mass-Spectrometry. The preliminary analysis reveals presence of glycosides and xanthones in the aqueous root extract of the plant. We are in the process to initiate the animal work to characterize the anti-diabetic and anti-atherosclerotic effects of the prepared extracts.
We have found that miR-493 is a secretory microRNA. Our future work involves looking at miR-493 pattern in smokers versus non-smokers serum. This will give us some clue if this miR-493 could be used as a prognostic marker in case of smoking patients.
Our collaborative work demonstrated a role of miR-142-3p in inhibition of tumorigenic properties and in-vivo metastatic potential of human cervical cancer cells. Further, we have shown that SLC7A11/ xCT is a target of miR-5096 and its restoration partially rescues miR-5096-mediated ferroptosis and anti-tumor effects in human breast cancer cells.
Infrastructure developments
We are setting up a state-of-the art Animal House facility at IIT Madras, Several equipment has been procured/ ordered.
Output
Papers in peer-reviewed journals:
Sharma P, Yadav P, Jain RP, Bera AK, Karunagaran D (2021) miR-142-3p simultaneously targets HMGA1, HMGA2, HMGB1, and HMGB3 and inhibits tumorigenic properties and in-vivo metastatic potential of human cervical cancer cells. Life Sci. 291:120268.
Yadav P, Sharma P, Sundaram S, Venkatraman G, Bera AK, Karunagaran D (2021). SLC7A11/ xCT is a target of miR-5096 and its restoration partially rescues miR-5096-mediated ferroptosis and anti-tumor effects in human breast cancer cells. Cancer Lett. 522:211-224.
Shalomov B, Handklo-Jamal R, Reddy HP, Theodor N, Bera AK, Dascal N (2021) A revised mechanism of action of hyperaldosteronism-linked mutations in cytosolic domains of GIRK4 (KCNJ5). J Physiol. doi: 10.1113/JP282690.
Reddy HP, Yakubovich D, Keren-Raifman T, Tabak G, Tsemakhovich VA, Pedersen MH, Shalomov B, Colombo S, Goldstein DB, Javitch JA, Bera AK, Dascal N (2021) Encephalopathy-causing mutations in Gβ1 (GNB1) alter regulation of neuronal GIRK channels. iScience. 24:103018.
Purohit R, Bera AK (2021) Pannexin 1 plays a pro-survival role by attenuating P2X7 receptor-mediated Ca2+ influx. Cell calcium. 99, 102458.
Purohit R, Bera AK (2021) Mutational effects of Pannexin 1 R217H depend on the carboxyl-terminus. Biochem Biophys Res Commun. 548:143-147.
Rajendran S, Swaroop SS, Roy J, Inemai E, Murugan S, Rayala SK, and Venkatraman G (2021) p21 activated kinase-1 and tamoxifen - A deadly nexus impacting breast cancer outcomes. Biochim Biophys Acta Rev Cancer. 1877:188668 (*Co-corresponding author).
Biswal J, Jayaprakash P, Rayala SK, Venkatraman G, Rangaswamy R, and Jeyaraman J. (2021) WaterMap and Molecular Dynamic Simulation-Guided Discovery of Potential Pak1 Inhibitors Using Repurposing Approaches. ACS Omega. 6: 26829-26845.
Balasubramanian V, Saravanan R, Joseph LD, Dev B, Gouthaman S, Srinivasan B, Dharmarajan A, Rayala SK, and Venkatraman G. (2021) Molecular dysregulations underlying the pathogenesis of endometriosis. Cell Signal 88: 110139.
Vuttaradi VK, Ezhil I, Ramani D, Kanumuri R, Raghavan R, Vaishnavi B, Roshini S, Archana K, Leena DJ, Pitani RS, Sandhya S, Sjolander A, Ganesh V and Rayala SK. (2021) Inflammation induced PELP1 promotes tumorigenesis by activating GM-CSF 2 paracrine secretion in the tumor microenvironment. J Biol Chem (Accepted – In Press).
Kanumuri R, Kumar A, Biswal J, Vignesh R, Pandian J, Venu A, Vaishnavi B, Leena DJ, Jeyaraman J, Ganesan G, Aradhyam GK, Venkatraman G, and Rayala SK. (2021) Small peptide inhibitor from the sequence of RUNX3 disrupts PAK1-RUNX3 interaction and abrogates its phosphorylation dependent oncogenic function. Oncogene 34:5327-5341.
Kanakaveti V, Sakthivel R, Kanumuri R, Vaishnavi B, Roshini S, Pitani RS, Ganesh V, Rayala SK*, and Gromiha MM*. (2021) Novel BH4-BCL-2 domain antagonists induce BCL-2 mediated apoptosis in triple negative breast cancer. BBA General Subjects (Minor revision – Submitted). *Co-corresponding author.
Vignesh R, Sjolander A, Ganesh V, Rayala SK, and Aradhyam G. (2021) Aberrant environment and PS-binding to calnuc C-terminal tail drives exosomal packaging and its metastatic ability. Biochem J, 478: 2265-2283.
Srikanth SSB, Kanumuri R, Ezhil I, Naidu JKS, Kremeskothen J, Rayala SK* and Ganesh V. (2021) KIBRA connects Hippo signaling and Cancer. Experimental Cell Research 403: 112613 (*Co-corresponding author).
Biswal J, Jayaprakash P, Rayala SK, Venkatraman G, Rangasamy R, Poopandi S, and Jeyakanthan J. (2021) Water Mapping and Scoring approaches to predict the role of Hydration sites in Binding Affinity of PAK1 inhibitors. Comb Chem High Throughput Screen (2021), Accepted - In Press.
Khwajah M, Kanumuri R, Soujanya K N, Uma Shanker R, Rayala SK and Srivastava S. (2021) Sustainable production of Camptothecin from an Alternaria sp. isolated from Nothapodytes nimmoniana. Scientific Reports, 11:1478.
Venu A, Archana B, Kanumuri R, Vuttaradhi VK, D'Cruze L, Sowmiya M, Ganesh K, Prathiba D, Alexandrovna DM, Rayala SK* and Venkatraman G. Clinical evaluation of P21 Activated Kinase 1 (PAK1) activation in Gliomas and its effect on Cell Proliferation. Cancer Invest. 39:98-113, (*Co-corresponding author).
Padmavathy KP, Vuttaradhi VK, Venu A, D'Cruze L, Saravanan R, Pitani R, Ganesh K, Pacharla H, Rayala SK, Prathiba D, and Venkatraman G. (2021) Clinical evaluation of Proline, Glutamic acid, and Leucine-Rich Protein 1 expression in Astrocytomas and Correlations with the Proliferation Marker Ki-67. J Mol Neurosci. 71:724-733.
Natarajan B, Arige V, Khan AA, Reddy SS, Barthwal MK, Mahapatra NR. 2021. Hypoxia-mediated regulation of mitochondrial transcription factors in renal epithelial cells: implications for hypertensive renal physiology. Hypertens Res. 44:154-167.
Khan AA, Sundar P, Natarajan B, Gupta V, Arige V, Reddy SS, Barthwal MK, Mahapatra NR. 2021. An evolutionarily-conserved promoter allele governs HMG-CoA reductase expression in spontaneously hypertensive rat. J Mol Cell Cardiol.158:140-152. (Cover page article).
Allu PKR, Kiranmayi M, Mukherjee SD, Chirasani VR, Garg R, Vishnuprabu D, Ravi S, Subramanian L, Sahu BS, Iyer DR, Maghajoti S, Sharma S, Ravi MS, Khullar M, Munirajan AK, Gayen JR, Senapati S, Mullasari AS, Mohan V, Radha V, Naga Prasad SV, Mahapatra NR. 2021. Functional Gly297Ser Variant of the Physiological Dysglycemic Peptide Pancreastatin is a Novel Risk Factor for Cardiometabolic Disorders. Diabetes. 2021 Dec 3:db210289. doi: 10.2337/db21-0289. Media coverage
Visits planned for PI, co-PIs, international collaborators and students (both inbound and outbound)
  Visits of two students to Cleveland Clinic, USA are planned during August-October 2022. They have been selected for the International Immersion Experience fellowship from IIT Madras.
 
Industrial Engagement
We have signed MOU with Madras Medical Mission hospital, Chennai for collaborative research.
University Engagement
We have signed MOU with Sreechitra Tirunal Institute for Medical Science and Technology, Trivandrum for collaborative research.
Relevant Updates
We are exploring the possibility of securing additional funding from various Govt. agencies and CSR funding from industries.